7 Best Antivirus with Internet Security 2019
The rise of internet-capable devices changed our lives for good, but has given cybersecurity experts a major headache. That's where getting the best antivirus comes in.
It is made worse by a higher number of existing avenues the malicious software and hackers can exploit for their activities, as well as a growing mountain of data that is being generated.
In an ideal case, all antiviruses should come with a state-of-the-art security suite. In reality, though, even some of the best antiviruses still lag behind.
They aren't equipped to protect you from Trojans, zero-day attacks or even malware, which can easily wipe out your entire system. You wouldn't want to wake up one morning to find all your emails, photos and other important files gone.
These days, having proper protection in place is no longer optional. You don't want to take any risks and you need the best security you can get. You don't need just any antivirus—you need one that takes your security seriously.
---
ALSO READ:
---
We analyzed the best antivirus solutions the market has to offer, in search of the ones that not only protect your from ordinary viruses but also offer the highest standards of internet security. Keep your desktop and mobile devices safe with the best online security suites. Here are our top picks:
---
1. Bitdefender Internet Security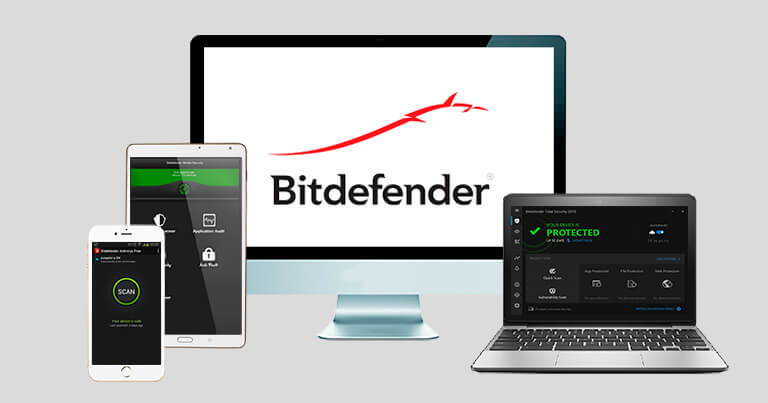 Top anti-malware performance
Minimal system impact
Easy to understand and navigate
Stellar extras: webcam protection, anti-theft for your laptop, etc.
Bitdefender Total Security's feature set nearly matches Kaspersky's arsenal and adds awesome extra features, such as anti-theft protection for laptops, webcam protection, and a built-in secure password manager.
Bitdefender's anti-malware engine is very good at stopping malware, according to multiple independent tests. The key difference is that Bitdefender has a significantly lighter system load, with minimal effect on your device performance.
Bitdefender takes an active role in your web activity. It checks every single link in Google search results, external links on websites, and social networks like Facebook and Twitter.
Bottom Line
Bitdefender performed exceptionally well in recent third-party testing
Excellent malware protection
Many useful extra features, even for low-priced packages
Minimal impact on system performance
Built-in secure password manager
---
2. Norton Security Deluxe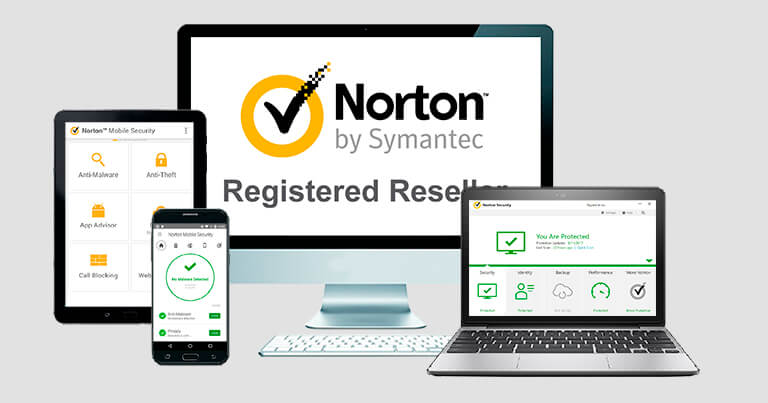 Protects your smartphone, computer, and tablet
Blocks malware that can damage your files and devices
Offers advanced tools, including a personal firewall and parental controls
Identifies and shuts down harmful apps
Norton Security Deluxe runs quietly in the background, providing discreet protection without interruptive experience for the end-user.
It benefits from advanced technology and cloud support offered by parent company Symantec. The enterprise-grade cloud technology allows Norton to utilize advanced behavior-based techniques for detecting and neutralizing malware. It is also capable of blocking attacks from infected computers connected to your network.
Norton Security Deluxe offers top-tier Internet security with advanced features to guard against web-based malware that exploits browser vulnerabilities as you surf, while harmful sites are flagged by reputation in search results. All downloads from the web are thoroughly analyzed.
Norton also offers an integrated password manager, which helps secure your identity online, covering all major operating systems: iOS, Android, MacOS, and Windows.
Bottom Line
Backed by Symantec, allowing retail users to take advantage of enterprise-grade malware detection technology
A comprehensive set of internet security tools
Non-intrusive, with great user experience
---
3. McAfee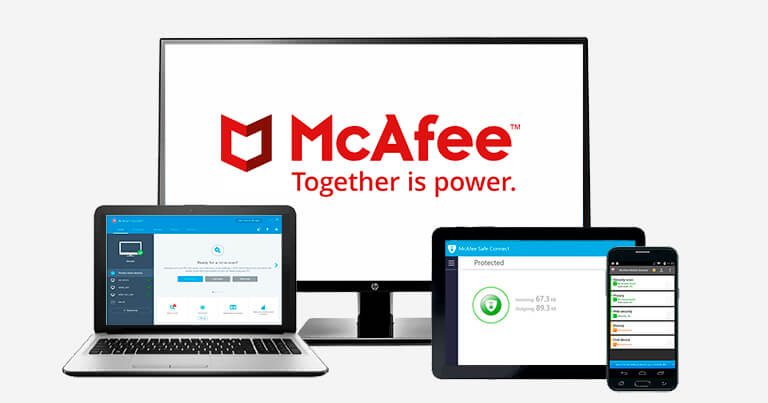 Cross-platform protection covering Windows, Mac, Android, and iOS
Dedicated social media protection
Great set of tools for comprehensive protection
McAfee is the pioneer of antivirus and one of the oldest companies in cybersecurity. The main components of McAfee's protection are still its antivirus scanner and web/email protection.
With drive-by web attacks and things like crypto-mining becoming increasingly prevalent, McAfee provides plenty of coverage. The WebAdvisor tool scans downloads for malicious chargers and identifies all suspicious URLs. McAfee also offers an associated anti-spam module, designed to keep your inbox free from scams and spam advertisements.
One of the great tools that come with McAfee is social defenses. These are specifically designed to scan your social media pages to make sure links and files posted on your profiles do not lead to a dangerous site or downloadable virus. Social media sites have become a major target for malware creators, as most of them have social media accounts and use them frequently.
With McAfee Total Protection, you can install security on any Windows computer you own, as well as on any MacOS, Android, and iOS device.
Bottom Line
Robust social media protection
Superb malware protection
A wide range of available tools
---
4. Kaspersky Internet Security 2019
Cross-platform protection covering Windows, Mac, Android, and iOS
Dedicated social media protection
Great set of tools for comprehensive protection
Excellent malware protection
Kaspersky Internet Security Suite is one of the best antivirus products on the market. It offers excellent malware protection rates and comes with a decent set of security and privacy features. It offers consumers a high degree of customization and with the purchase, customers receive licenses for Kaspersky Mac, Android, iOS and Windows Phone Security Software.
According to security researchers, Kaspersky offers superior malware protection. Like most of the other antivirus systems, Kaspersky's detection starts with digital-signature matching, to detect already known malware. In addition, heuristic monitoring searches for any suspicious behavior of unknown software, in order to discover unknown malware. All suspicious icons are sent to Kaspersky Security Network for further analysis.
When it comes to detection rates, Kaspersky hits nearly perfect scores in test labs. According to AV-TEST, the security suite detected and successfully blocked all malware samples on test computers.
Bottom line
Includes parental controls
Anti-spam features, 2-way firewall,
Safe money browser plugin, virtual keyboard, virtual network service
(VPN) and webcam protection.
Bright and open user interface.
---
5. 360 Total Security
Covers UNLIMITED devices
Stops viruses, spyware & other malware
Blocks unsafe links, downloads & email attachments
Qihoo 360 Total Security is a completely free online security and antivirus solution developed by Qihoo. Its antivirus protection is powered by two major third-party vendors. This security software is more than just a virus scanner. The comprehensive speedup and cleanup tools improve the state of your system by removing unnecessary startup applications and files. There's also a handy graphic of your system's average boot time so it's easy to track progress as you turn off unnecessary startup services(which can drastically slow down your system's loading time)
If the automatically pre-configured speedup tools aren't to your liking, Total Security also provides a "Manual" menu which gives you control over system settings. Finally, the "history" panels allow you to see any changes to your system optimization settings. These tools integrate nicely with the "scheduled cleanup" function.
Bottom line
A data shredder for securely deleting unwanted files and folders
A virtual sandbox environment for safely examining potentially malicious programs,
A virtual vault for storing passwords.
A ransomware decryption tool.  This tool aims to break the encryption that ransomware uses to lock down access to your files and directories, so it's a second line of defense against this cybersecurity
---
6. AVG Internet Security Unlimited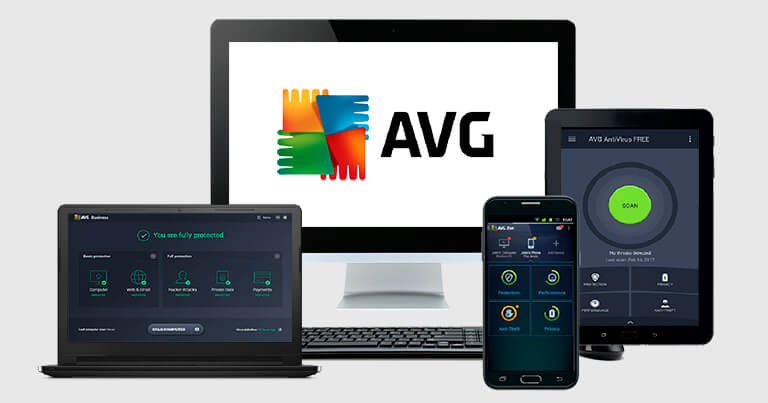 Covers UNLIMITED devices
Stops viruses, spyware & other malware
Blocks unsafe links, downloads & email attachments
Entry-level pricing
AVG Internet Security Unlimited offers all the features of an advanced internet security suite at entry-level antivirus price.
A perfect fit for large families, AVG Internet Security Unlimited lets you install protection on most devices in your household. It supports Windows, MacOS, and Android, but not iOS. It offers comprehensive security on Windows and Android devices, but just simple antivirus on Macs. (Sorry, Apple fans, AVG is not the best option for you.)
AVG automatically updates to the latest version, so you don't need to worry about manually updating your antivirus.
Bottom Line
Great protection for PC and Android
Protects unlimited devices
---
7. Heimdal Security
A comprehensive set of internet security tools
Non-intrusive, with great user experience
Heimdal Thor Premium Home is an innovative security product, with many protection layers. … While the new Thor Vigilance antivirus module is not the best that we have tested, the HeimdalThor Premium Home product as a whole is one of the best products on the market that deliver complete anti-malware protection.
One of the fastest growing companies in the cyber security industry – highly focused on user education, free online courses and resources. Winners of the "Most Educational Security Blog" award in 2016, and nominated for Anti-Ransomware Solution of the Year at the 2017 Computing Security Awards.
Real-Time, Deep Level Packet Inspection
The "DarkLayer Guard" feature was equally outstanding. This features a real-time, two-way traffic scanning engine which monitors all DNS, HTTP, and HTTPS packets. The tool is able to stop suspicious packets from transmitting as soon as they are detected. I had barely installed Premium Home when it blocked an outbound connection within Google Chrome to dailyuploads.net, a known malware source.
The X-Ploit Resilience feature ensures there are no potentially unpatched vulnerabilities. Users can tag any programs that require a constant internet connection such as a web browser and remote support tools like TeamViewer. Active monitoring can be configured on a per-application basis, and the auto-update feature can also be manually toggled on and off. The TTPC (Threat To Process Correlation) tool allows users to inspect processes that Thor blocked and release them if appropriate.
The virus scanning tool includes an infections area where files are divided into definitely infected files and suspicious files. Users then manually inspect them and determine what action they would like to take.
Bottom line
Protects unlimited devices
---
Summary
Installing a powerful antivirus program on your computer can prevent ransomware from encrypting your files, keep your banking, payments and all sensitive information safe, and generally protect you from many types of malware.
There are a lot of best antivirus products out there, but if you're looking for superb internet security, make sure you check out the solutions recommended above.