LiveChat Affiliate Program Review: Discover 10 Reasons LiveChat Partners Is One Of The Best.
Have you heard about the LiveChat Affiliate (LiveChat Partners) program? While affiliate marketing is an enormous and still rapidly growing industry, only a handful of major companies offer such attractive terms of cooperation to affiliate marketing professionals. The LiveChat affiliate program (LiveChat Partners) is definitely among the best affiliate programs available right now.
What is LiveChat?
LiveChat is a live chat software used by businesses to interact with customers. For instance, you are selling a product or service on your E-commerce website. The customer wants to interact with you for a specific reason. Remember that people don't want to waste their time waiting for the answers. All they need is a fast response.
Forget emailing and calling. So what could be the solution? Then Live chat comes to your rescue. LiveChat Software is very successful as many big businesses are using it. Coming to the LiveChat affiliate program, you can earn a 20% recurring commission until your referrals renew subscriptions. READ A DETAILED REVIEW OF LIVECHAT HERE
What is LiveChat Affiliate Program?
LiveChat Affiliate Program is your chance to start making serious money online. With LiveChat affiliate program, you can earn 20% recurring commission as long as your referrals renew subscriptions. Live chat is a leading customer service software in rapidly growing e-commerce market.
How Does LiveChat Affiliate Program Work?
Once you signup on the LiveChat affiliate program, your account will get approved instantly. Unlike other affiliate programs, you don't need to undergo a review process. Once you login to the LiveChat dashboard you have multiple options to promote this chat software and make money.
There are 5 plans for big and small businesses : Starter, Regular, Team, Enterprise and Enterprise plus. So you get 20% commission from the plan customer chooses.
LiveChat Affiliate Promotional tools
#1. AFFILIATE APP: You can Track trials, sales, and earnings in real-time within a dedicated Partner App. You can Also Keep an eye on your performance and verify which promotion strategy works best for you.
#2. CAMPAIGN BUILDER: LiveChat has created a simple tool to let you customize affiliate links within the Partner App. You can Enhance your links with a special discount and extend the trial in a few clicks.
#3. HIGH-QUALITY MARKETING MATERIALS: Up-to-date and high-converting banners, widgets and copy templates will help you promote LiveChat and optimize your results.
#4. PARTNERS BLOG AND NEWSLETTER: Marketing publications, as well as monthly newsletters, will keep your heads up on the business and help you become a better marketer.
Who can join the LiveChat affiliate program?
#1. Website Owners: Monetize your website by adding promo banners, affiliate links, and signup widgets whenever possible.
#2. Marketers: Make use of your skills and direct traffic onto the LiveChat website. Run paid search or email campaigns for different channels and verify which work best for you.
#3. Bloggers and Content Writers: Write product reviews and comparisons on your blog or create your own SaaS products review website.
#4. YouTubers and Social Media Superstars: Create content your followers will find useful. Stream webinars and share success stories related to LiveChat. Let your audience know how can our software impact their businesses' well-being.
Why you should join the LiveChat Affiliate Program.
There are countless reasons why you should join the livechat Affiliate program. Below are 10 Reasons LiveChat Partners Is a Great Affiliate Program to join
#1. LiveChat affiliate program sell well-known, proven products
Selling an established product is much more convenient. That's why LiveChat's offer stands out in the crowd. LiveChat is not yet another startup, but a company developing its software for over 15 years now. It has more than 25,000 satisfied customers from over 150 countries, eager to share their enthusiastic reviews.
With such a background, you can focus your activity on reaching the right people instead of explaining the need for having LiveChat on board. Learn more about LiveChat and take advantage of its position on the market!
#2. LiveChat Affiliate Program offers 20% recurring commission
The best affiliate programs are all about recurring commissions. The LiveChat affiliate program gives affiliates an opportunity to create a nice and steady flow of money. Every customer converted using your affiliate link is a source of a recurring income as long as their accounts are active.
Note that the average LiveChat license duration exceeds 2.5 years. That's what makes grabbing recurring commission worth all the effort.
#3. LiveChat Affiliate Program has no gimmicks or fake encouragements
LiveChat offers a fixed 20% recurring lifetime commission of accounts you help us sell. Moreover, we dedicated our efforts to keep our commission policy as simple as it gets. Note that there are no gimmicks or fake encouragements embedded to lure you into joining the LiveChat Partner Program.
We don't work like that. Instead of failing to meet your expectations, we care about building long-term relationships. Creating win-win partnerships with affiliate marketing professionals is our ultimate objective. That's what makes our in-house partnership one of the best affiliate programs out there!
#4. B2B deals = big sales and big commissions
Legitimate affiliate programs in a B2B industry are rare. After all, affiliate marketing was built around a B2C type of deals. Unfortunately, this also means that majority of partners earn only tiny commissions.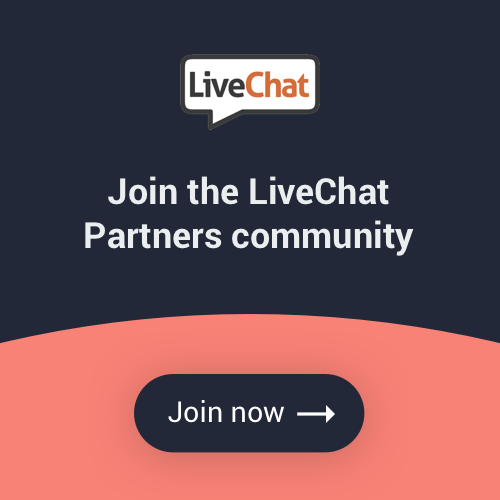 Meanwhile, in LiveChat Partners one solid license created with your affiliate link can bring you a significant commission. While some licenses cost no more than $100/month, there are hundreds of companies that base their whole customer support on LiveChat. Their accounts are worth thousands of dollars. Valuable licenses equal hefty commissions. Recurring commissions, to be precise!
#5. LiveChat Affiliate Program is Free to join, available for everyone
LiveChat Partner Program is perceived as one of the best affiliate programs for its simplicity and unparalleled convenience. You can notice their approach from the very beginning of the journey. Unlike lots of questionable programs, that spoil the reputation of affiliate marketing, they don't expect you to pay anything to join the program.
What is more, they automated the whole process of becoming their partner. You don't have to apply to become their affiliate partner. All you have to do is sign up, create your own account, and start promoting!
#6. Easy way of tracking your efforts
Not only signing up is as convenient as it gets in LiveChat Partner Program but also your campaigns' efficiency tracking is super comfortable.
In fact, to make our affiliates' lives a bit easier, they introduced an advanced analytics tool – UTM-based Performance Report. Thanks to this feature, all the affiliate marketing professionals working can check which resources suit their activity the most and which campaigns have the highest conversion rates. They made such a tool to spare you purchasing an expensive 3rd-party affiliate software.
#7. Complex approach: What the best affiliate marketing programs are famous for
LiveChat's complex approach to managing partnerships is noticeable straight away. Aside from the access to UTM-based performance report that they give affiliate partners, they also provide them with a handful of creative resources and shareable copy they can use to promote LiveChat. Everything to help you grab leads without any effort.
Besides that, you can always get in touch with LiveChat Partners' affiliate marketing managers at partners@livechatinc.com. they are always more than happy to evaluate your campaigns and help you optimize your activity. You might even be lucky enough to receive a dedicated offer that should boost your affiliate marketing efforts.
#8. Become an Expert and promote your company with LiveChat
Only the best affiliate marketing programs create an opportunity for their affiliates to promote their services. In LiveChat, they introduced an Experts Marketplace that active partners can apply to. You can become an expert and get access to the number of unique perks that'll give you an amazing competitive edge.
These perks include:
the new pool of leads via Experts Marketplace. Promote your company in front of 25,000 LiveChat customers and 25,000 unique monthly visitors of the Marketplace,
access to an in-depth customer service-oriented knowledge,
LiveChat Expert Certification, validating your affiliation with our company.
#9. 120 days affiliate cookie lifetime
All you need to do is bringing customers on their website. If they create an account within the next 3 months and convert to a paid license, you will receive your commission.
They use PayPal to make all the transactions quick and simple. Once you request a withdrawal, they willl approve it within a few hours. You have to admit that only the best affiliate programs decide to offer conditions such convenient for their partners.
#10. LiveChat Affiliate Program Ethics
Joining the LiveChat Partner Program is free, extremely easy, and requires no technical knowledge whatsoever. Moreover, you don't even need your own website to become an affiliate partner. Actually, they know dozens of affiliate marketing professionals that earn online without a website.
However, the only limitation they decided to keep is related to the ethical side of making business. They decline any websites containing objectionable material such as pornography, explicit language or violent content. Other than that, nothing stops you from becoming our Partner!
Conclusion: Is LiveChat Affiliate program worth your time and effort?
A BIG YES! The LiveChat Affiliate program is worth your time and effort. It is a great and legitimate program that gives you all the support to earn a good amount of money. I will recommend you give it a trial. CHECK IT OUT!