What is live chat? 9 Proven Benefits of Live Chat for your Business in Africa
Many business owners see Africa see live chat as yet another tool, just like email or phone, that can be used to contact customers. They either don't see much benefit in it or they are not aware of its full potential. What is live chat for a modern online business then?
Live chat is one of the more flexible tools you can use on your website. It helps you support customers in need of help. It allows you to increase your sales by engaging the right prospects at the right time as well as by generating a ton of new leads.
Finally, it also can be an invaluable source of knowledge about the state of your business, showing you the way you should take it. Sticking a 'contact tool' label on live chat and leaving it at that closes a lot of opportunities for growth.
Here are a few different uses for live chat that will help you answer the question: what are the benefits of Live Chat for your Business in Africa?
What is live chat: how it works?
Live chat on your website allows you to have real-time conversations with your customers. The first thing you have to do is to sign up and install live chat on your website. Then, people coming to your website will be able to click on your live chat widget and start a conversation with you or one of your customer service agents.
What's so special about that? Let's take a look at other communication tools your business probably uses to answer this question.
Email and phone give you the same contact opportunity. They both can be pretty fast, with phone allowing for real-time contact too. What's unique about live chat is the fact that you not only get to talk with people on your website but you also see who is on your website.
With email or phone, you only learn about customers when they write to you or call you. Apart from the number of your sales you make, or the number of monthly visits, you don't really get to see people on your website.
Using phone and email is a bit like talking with people in a room while being blindfolded. You don't know about people until they talk with you. Live chat takes that blindfold away. You always know how many people are on your website and how many conversations you could be having. What's more, you also know who those visitors are: where they come from, what website they are on and, if they done business with you before, you can also know their names, what they bought previously and so on.
This means that you can switch from the passive waiting until someone contacts you to actively engaging potential customers on your website, which is huge in terms of sales.
What is live chat: support
Before going into sales though, we should touch on a more popular use for live chat: support. According to Customer Service Report, 58 percent of companies using LiveChat use it for both sales and support and 23 percent of those companies use it strictly for support. This is slightly more common use than sales-focused live chat use (19 percent companies).
What's so special about using live chat for support? Once again, you could be using email and phone for that. Well, live chat beats email in terms of speed. You can provide help much faster to a customer who is on your website right now. However, phone can be as fast.
What phone can't offer you as a support tool is an efficiency? When was the last time you were able to hold six phone conversations at the same time? With live chat, that's not even that unusual. An agent with some experience should be able to handle this many chat conversations without breaking a sweat.
At times, live chat can be even faster than a phone because you don't waste time on the 'meet-and-greet' part of the conversations. A customer needs to simply click your live chat and type in a question to get an answer. And if they are dealing with an experienced agent that uses tools like canned responses and message sneak-peek, they can have that answer really fast.
What is live chat: sales
Apart from support, the other main use for live chat is online sales. And it's of big help as 62 percent of customers say that they would buy more if a chat option is available. Live chat on your website can help your sales in a couple of ways.
Firstly, you get the aforementioned ability to see everyone on your website. And by everyone here, I mean the people who might buy something from you. For example, you can see exactly who is looking at your product pages.
If you notice that someone takes a long time going back and forth between two similar products, it doesn't take much effort to start a chat with them and help them make a choice. The best part about the website monitoring aspect of live chat is that it can be automated.
If you 'tell' live chat who is likely to buy, it can start a chat with that kind of visitor automatically. For example, if most of your sales come from people who spend more than 5 minutes on product pages, you can automatically start a chat with them and increase your chances of getting a sale.
Secondly, you can use live chat as a lead generation tool. After all, making sales is not just about converting potential customers who are ready to buy right now but also about learning about leads who might buy in the future.
Every time someone starts a chat, they need to provide a set of personal details like name and email that can be later on used for email marketing. One or two targeted emails with a discount offer and someone who didn't buy immediately after chat can be turned into a customer.
Finally, live chat can also be used as an upselling tool that can help you make the most of each sale. Whenever a customer who already wants to buy something asks a question, you can suggest other products that would go along with their order to maximize the value you get from the sale.
What is live chat: business intelligence
Live chat can be a huge source of feedback. With hundreds of chats being answered by your agents each month, you can extract a ton of useful information from them. If you employ a way to organize those chats, for example by tagging them, you could be looking at a way to get extra business intelligence completely for free.
You can use custom surveys that come with live chat to get even more information. Imagine you could ask each customer who starts a chat one question. This can be a question about your product, about the quality of the received service or about the way they reached your company. A month or two of such surveys and you can be rolling in useful data.
What is live chat for your business?
As you can see, there's more to live chat than simply using it as a contact tool. It can provide a significant boost to your support and sales efforts. However, this is definitely not everything. My question is: how do you use live chat? What is live chat for your business? If you're using your live chat to reach any other goals, please share in the comments!
9 Benefits of Live Chat for Your Business in Africa
From overnight shipping to instant access to your product or service, your customers always want things now – and they usually get it. However, this is not the case when it comes to customer service.
Research shows that the average respond time for customer service requests on social media is 10 hours. Worse still, email response times take longer than 12 hours!
This is not acceptable. And delays like this will lose you customers. But, how can you respond quickly to your customers? It's simple – use live that
There are several benefits of Live Chat for your business in Africa. Live chat enables you to have real-time conversations with your customers while they're on your website. It's quick, convenient and customers love it because it's 100x faster than any other digital service channel.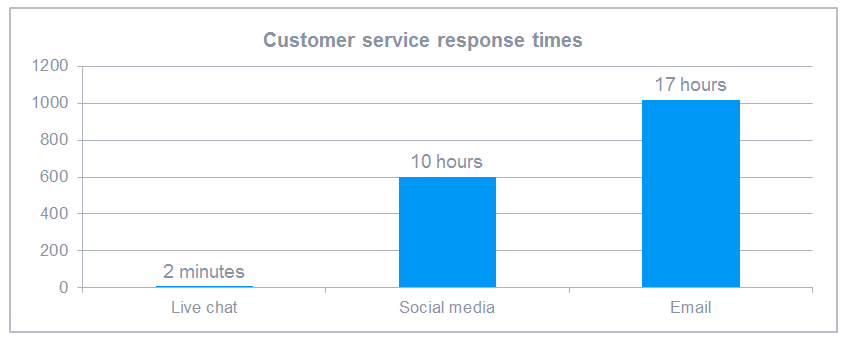 Businesses in Africa from major banks to small e-commerce stores now use live chat to better service their customers and improve response times. So, it's no surprise that 33% of consumers now expect to see live chat offered on every website.
But, there's a lot more to live chat than providing quick customer support. That's why we've rounded up 9 Benefits of Live Chat for Your Business to show you how chat can positively impact your business in Africa. Let's get started!
#1. Live chat Increase sales and conversions
The first major benefit of using live chat for your business in Africa is the potential to increase sales. The American Marketing Association found that B2B companies who used live chat see, on average, a 20% increase in conversions!
While browsing your business website, prospects and customers will have questions about your product or service. With live chat, you can answer them immediately – and while the buyer is still on your website. This is what makes live chat so powerful
Live chat gives you the chance to hold your buyers' by the hand, help them overcome objections and reach a buying decision. It's like having a sales assistant on standby, live on your website.
Furthermore, a report by eMarketer looked into the impact live chat has on consumers. The report found that 35% more people made a purchase online after using live chat.
#2. Livechat Reduce support costs
It's no secret that customer support can be expensive. In traditional call centers, a customer service agent will handle both phone and email requests. But, only one at a time (can you imagine trying to answer two calls at once?).
The benefit of live chat is that it changes all of that. According to research by Telus International, customer service agents can engage in as many as six (!) simultaneous chats, depending on the complexity of the issues involved.
Being able to handle several customer chats at once means you'll need a substantially smaller team to handle customer service requests – cutting your support costs as a result. If that's not enough to persuade you, live chat is more than 50% cheaper than handling phone calls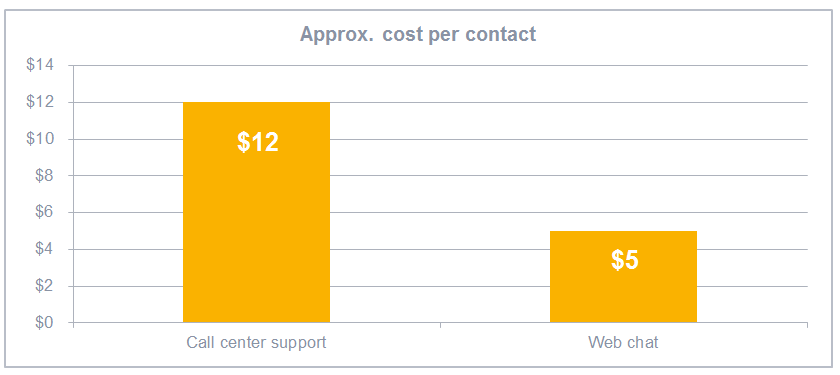 Within months of launching live chat on their website, WP Engine were able to solve more than 90% of all questions and issues immediately – reducing their customer support costs almostovernight.
#3. Live Chat Build trust with buyers'
When you walk into a physical store, the retailer gets the chance to build a rapport with you during the sales process. This helps them establish trust and make the sale. But online, you can't do that.
Consumers' are naturally skeptical of buying things from people they don't know. It's human nature. But, with live chat, you can have a direct conversation with your buyer that allows you to build trust and close the gap between online and offline purchases.
Trust is extremely important in the business world. If a buyer doesn't trust you, they won't provide their contact information or share their personal details.
A study from ATG (now acquired by oracle) into Global Consumer Trends found that 90% of customers said the "Live Chat" button gives them confidence that they can get help if they need it. Without live chat, you're going to have to work a lot harder to build trust with your website visitors.
#4. Gain a competitive advantage
Offering live chat to your customers presents you with a great opportunity to gain a competitive advantage over your rivals.
A study into live chat by TELUS INTERNATIONAL found that many businesses are still not benefiting from the power of using live chat on their websites. In fact, our own live chat study of 1,000 websites found that only 9% of websites use live chat to provide real time support to their customers.
Josh Ledgard, founder of Kick Off Labs, is a firm believer in using live chat support as a way to differentiate yourself from the competition. In one example, Josh shared a story how he used the live chat software itself as a way to earn a new customer.

So, the next time a buyer asks you how you are different from your competitors, you can respond by using live chat.
#5. Increase average order value
Live chat doesn't just help you increase sales – it also helps you increase the value of a sale too!
By using live chat to talk with the buyer and understand their needs, you can recommend similar products and services by up-selling and cross-selling to increase the average order value.
For example, if a buyer is looking to purchase a new laptop, a chat agent can respond by recommending a laptop that meets their needs. But, an agent can also increase the average order value by recommending a laptop case, a bag, and any laptop related accessories.
Internet Retailer found that Virgin Airlines used live chat to transform their business. Using live chat software, they up-sold customers with additional products and converted them 3.5x more often and saw a 15% overall increase in average order value as a result.
#6. Live chat Satisfy your customers
Live chat is a great opportunity to improve customer support and provide a memorable customer experience on your website. That's why customers prefer using live chat.
According to eDigital's customer service benchmark, live chat has the highest satisfaction levels for any customer service channel,with 73%, compared with 61% for email and 44% for phone.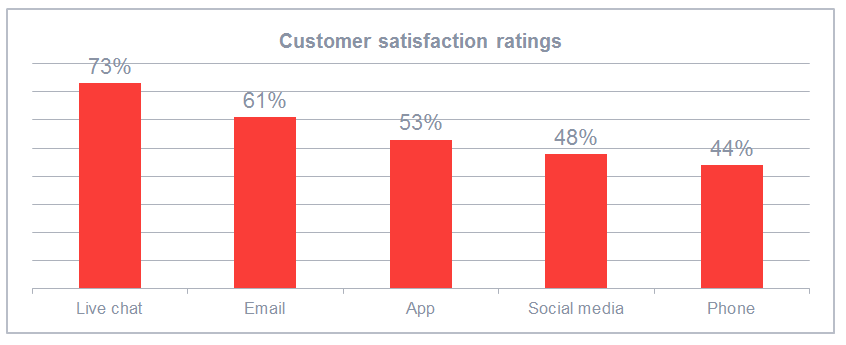 The reason for live chat's high satisfaction levels are due to "the efficiency and immediacy of the experience", says Kirk Parsons, a Senior Director at Market Research company, J.D. Power.
Sure, you can offer traditional ways for people to contact you, but why not communicate with your customers on a channel that they prefer? By doing so, you will retain more customers.
#7. Keep in contact with visitors
Unfortunately, not everyone who visits your website will buy from you straight away. So, what happens when a visitor leaves the site? Do you sit back and hope that they come back at some point in the future, or do you do something about it?
For people that use live chat, you can collect information about them – and turn them into leads.
Before a live chat session begins, ask the user for their contact information. Not only does this help in identifying an existing customer, but by asking for their name you can provide a more personalized customer experience.
If the chat user isn't a customer, you now know who they are. Use this to your advantage and ask them if they would like to receive news and promotional material as part of your email marketing strategy. They may not buy from you today, but by having their contact information you can convince over time that your product is the right fit for them.
Another benefit of using chat is that even if you're unable to collect contact information the first time around, 63% of consumers are more likely to return to a website that offers live chat. So, rather than communicating with anonymous visitors, you will be speaking with engaged prospects instead.
#8. Live chat Improve website experience
With live chat, your customers no longer have to stop what they're doing and pick up the phone or send an email when they have a question. Instead, they can have their questions answered immediately by a live person.
This is important – especially when it comes to purchasing or subscribing to products online. Forrester Research found that 57% of customers abandon their purchase if they can't get their questions answered quickly.
In addition, the same study found that 44% of online consumers rate having their questions answered by a live person while in the middle of a purchase as one of the most important features a website can offer.
While improving the website experience helps customers, the business benefit here is that customers that use live chat on a website are 3 times more likely to make a purchase – making a positive impact on your bottom line.
Live chat is typically found on the home page and product pages, but another way to use live chat to improve the website experience is by placing chat in unusual places, such as 404 pages or pages that have been deleted.
When your customers' arrive on a 404 page, they usually leave. Now, a live chat agent can help them navigate and find what they are looking for.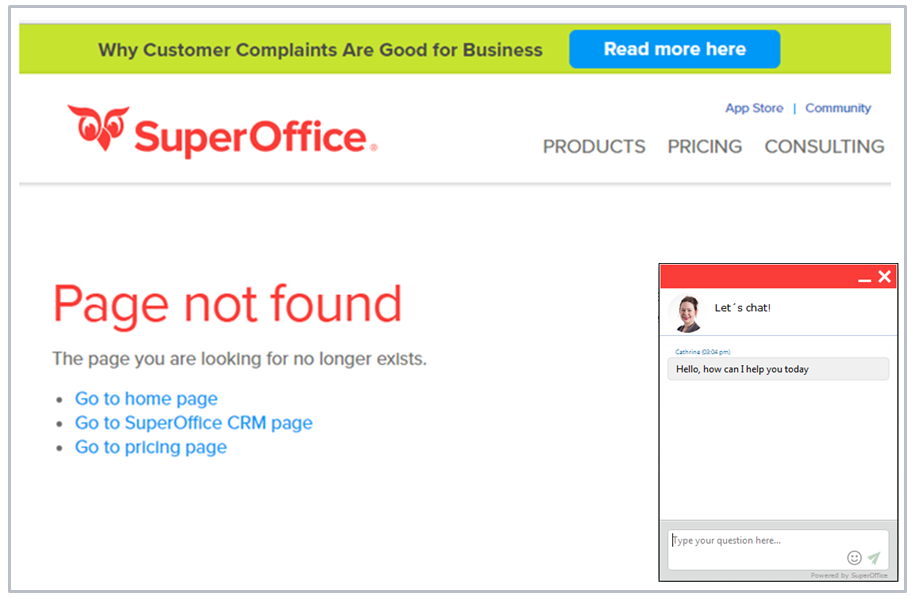 #9. Live chat Understand your customer needs better
A key part of any marketing campaign or sales process is to understand your buyers' needs and then provide the right solution to them. Not only does live chat software give you the opportunity to close a sale right there and then, but it also gives you access to their mindset by gathering what is known as "Voice of Customer Data".
Voice of Customer (VOC) data is a market research tool that can help you see your business from a customer's perspective. By collecting VOC data you can understand their thoughts, opinions and behavior, which can then be used to shape product development, marketing and the way you grow your business.
One way to collect VOC data through livechat is to review chat transcripts. You and your team can review valuable information such as words, phrases and questions that buyer's use, which you can then use to optimize your marketing copy to eliminate fears and doubts.
According to Aberdeen Research, companies that collect VOC data enjoy a 10-times-greater year-over-year increase in annual company revenue compared to all others.
Conclusion: Do you need live chat for your business in Africa?
If you want to succeed in business today, you can no longer ignore live chat software.
Your customers want access to fast and immediate support that helps them along in their purchase process. The good news for you is that very few companies use live chat, making it far easier to stand out from the competition.
Using live chat, you can communicate with your customers on a channel they prefer and use that to provide an unforgettable experience. If that's not enough to convince you of the benefits of live chat, you will also decrease support costs and increase average order value and overall sales.
There's no denying that live chat benefits for your business are huge. It's not a question of if you will use live chat for your business in Africa, but rather a question of when.
So, how long will it be before you start using live chat software? What other live chat software benefits would you like to add?
Credit to Livechatinc.Com & superoffice.com