MLM GATEWAY Review: Secret Lead Source For Network Marketing 2020
Today, I'm going to provide an MLM Gateway review. As a quick disclaimer, I am a very HAPPY customer and affiliate with them.  I use their services daily and get a HUGE value from it.
Many network marketers have experienced great success leveraging social media sites like Facebook, Linkedin, Telegram, etc to recruit new distributors. But when you really consider it all, there was never a true social media site for network marketers, until MLM Gateway started.
Some of the best leads and recruits you can get are people who have been, or still are, involved with a Network Marketing  Company. Maybe they were frustrated and left for various reasons or maybe the company ceased operations. Well MLM Gateway is full of people like them!
What is MLM Gateway?
MLM Gateway [MLMGateway.com], is a website that offers people working in the multi-level marketing industry a way to socialize with and connect with other people in their field. MLM Gateway is based out of the Czech Republic and it is FREE TO JOIN. It is considered a social lead generation platform.
The parent company of MLM Gateway is a Cyprus-based company called Gateway Solutions. The program was established in March 2015 and has become popular among network marketers despite being a new entrant into the MLM market.
---
---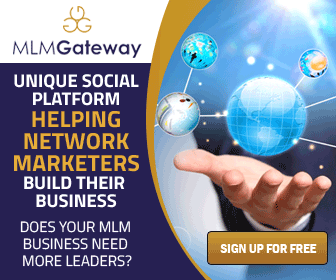 First things first, You can create a free MLM Gateway account by visiting their website and clicking free sign up. To the best of my knowledge, their service is available in every country in the world.
Once you have an account, you go to your profile and edit it. You add information such as your city, state, email address, businesses that you are interested in, businesses that you are not interested in, and your business opportunity. You should also include your photo. Also, your business announcements get listed below your video.
---
How does MLM Gateway Works?
---
MLM Gateway works in a fairly simple way. You join other independent business owners, network marketers, online entrepreneurs, Bitcoin miners, mlmers, and digital agents. Then Network and socialize with your peers and in the process generate quality leads and market your business to the world. It's as simple as that.
With MLM Gateway, you get free MLM leads and discover new opportunities. Obtaining genealogy MLM leads is essential for the success of business activities in network marketing. This site allows you to contact highly qualified prospects with network marketing experience, discover new business opportunities and expand your sales team.
If you have no experience with network marketing and are looking for work from home business opportunities, MLM Gateway offers the opportunity to reach known entrepreneurs with proven success in MLM business.
How To Join MLM Gateway
MLM Gateway offers FREE Membership to everybody around the globe. The free membership allows you to connect with other members, but your reach is limited. However, you can also upgrade to a premium membership which costs $24.95 per month.
When you sign up, you will receive five credits. You can also get more credits by purchasing them, referring new MLM Gateway members and other tasks inside the system, such as writing articles.
Here are ways to spend credits to build your MLM business:
Use 1 credit to contact a member
Use 10 credits to bump your business announcement to the top of the page
A minimum of 10 credits must be in your account to run an advertising campaign, which is a CPC ad text or banner ad on the MLM Gateway site
Become a member of the day and have your name shown in the header of the website for 24 hours – 300+ credits
Another really cool part is how you can promote your business by writing business announcements and actually earn credits by doing so. It must have at least 400 words and can contain two links to your website, blog or MLM business page. When you write an article, it earns you ten credits, plus you get free exposure to the links in your article.
---
The MLM gateway Premium Membership
---
As a premium paid member, you are called a PROFESSIONAL. The fee is $24.95 per month or you can pay quarterly like I did, for about $60.  You can cancel your membership at any time.
Premium Membership features include:
50 free credits each month
Listing on the Featured Professionals page
Unlocked leads interested in your business opportunity
Premium badge is shown in the member list
Website link on the profile page
Video embedded on the profile page
Profile page with updates, website link and social networks visible to all members and website visitors
No ads are shown on the profile page and business announcements
Profile views statistics
10 credits for each approved announcement instead of 5
15 credits for each registered referral instead of 10
I personally chose this membership level because I see the value in it.  $25 is chump change, compared to what you could spend on other types of advertising.
---
How the MLM Gateway referral program work
---
Here are some of the benefits of their referral program:
Make money from prospects who tell you NO to your opportunity, but still need a good source of leads
Generous commissions from 35 to 50 percent
State of the art affiliate software, which makes tracking your advertising very easy
Dedicated 24/7 customer support
Exceptional marketing materials to promote your URL
Lifetime referral commissions on everyone you refer
High converting landing page
A quality program you can be proud to promote
A two-level multi-tier affiliate program, you get 6% commissions on any referrals the people you refer make
As you can see, this is pretty much a no brainer.
---
Does MLM Gateway really work? Is MLM gateway a Scam?
---
It's hard to believe people still ask questions like this. A BIG NO.  MLM Gateway is NOT a scam.  It is a legitimate service to generate leads for your business and connect with other network marketers.  If it works for me, I'm sure it can work for you as well.
---
Can I get leads with MLM gateway?
---
Yes You Can, And Will Get Leads If… If you want to get highly targeted MLM leads, use MLM Gateway. This site offers an opportunity to contact people who already have experience with network marketing, and it is completely free. It presents a very easy way to discuss your business with people who are interested in this type of business.
IMPORTANT TIP: Like any social media platform, you dare not "spam" members. But they all do know you have an MLM Business, so they expect offers. If you approach it professionally, you can gain some great leads.
---
I cannot say anything negative about MLM Gateway. I believe it was an excellent idea and I do recommend it for everyone to use as one of the most reliable lead generation mechanisms. I wouldn't count on this site alone, but it is an added venue that can help you grow your business.
I do highly recommend you visit MLM Gateway and create a free account.