PaidViewPoint Review: Earn $25 For Every New Member You Invite To PaidViewPoint
If you are searching for the latest PaidViewPoint Review, here is a comprehensive one for you. But first, here are my recommended top 4 survey sites for 2020. Use the links below to get the best current sign up offers for FREE:
NO.1: PaidViewPoint
NO.2: Swagbucks
NO.3: Ysense
NO.4: Survey Junkie
Latest PaidViewPoint Review 2020
We live in uncertain times with an unstable and unpredictable economy and a job market more competitive than ever before. Millions of people are looking for legitimate ways to earn extra income. We may not have the time or the need for a second job, but who couldn't use a bit of extra spending money no matter how little.
Many people who are dedicated, self-motivated and committed have embraced the internet as a minor source of income and are leveraging their skills to help themselves earn a bit of extra money on the side. Some are so successful at this that they are able to earn their entire living from web-based gigs like PaidViewPoint and other online money-making endeavors.
Before now, even those who are familiar with the online space looked down on online paid survey sites like PaidViewPoint before reason that the payments are small. But that is changing fast! The online paid survey has become a popular gig on the internet and survey sites like PaidViewPoint have become very popular and sort after.
Things to look out for with paid survey sites
Before we proceed with our detailed PaidViewPoint review, let's give you some important tips about online paid surveys. There are many scams out there in the name of online survey sites. It is important to be aware of this from the outset and to look at every potential site you may engage, with a lot of scrutinies.
There are many online opportunities that sound way too good to be true. Trust your judgment and common sense. That old adage of "if it sounds too good to be true, it probably is" applies perhaps more in the internet age than ever before.
There are lots of scams and even sites that are semi-legitimate that will waste your time and not end up rewarding you as you thought. Any site that claims you can earn a living taking surveys on their site is one that should probably be avoided.
A lot of such survey sites are created to steal your data. They will get a good deal of information out of you and then deem you ineligible for the survey that would have provided you some money.
Basically, what they do is get important information from you for free, tell you that you do not qualify for the said survey, and thus you do not get paid for the initial time you put into the survey. A legitimate survey site (like PaidViewPoint) will not have you answer a ton of questions, only to tell you that you are ineligible for the survey and thus, waste your time.
What is PaidViewPoint?
PaidViewPoint is a subsidiary of Ask Your Target Market which is a well-known and trusted industry leader in market research. They provide a wealth of high-value data to businesses across a wide range of subjects. These services get the exact, detailed information they are looking for, and allow consumers to make their voices and preferences known.
PaidViewPoint is a paid survey site that truly does pay you for your opinion. They are known for creating surveys that allow them to get the data they need, but in a way that still entertains the participant in the process.
Why you should join PaidViewPoint
Unlike a lot of other survey sites, you will never be "screened out" of a survey on PaidViewPoint. If you are deemed eligible to take a survey, you will be able to take the whole survey and be rewarded for it. There are a lot of sites that will have you go through tons of questions, only to tell you that you aren't actually eligible to take the survey. Not with PaidViewPoint.
Another reason to join PaidViewPoint is that it allows you to maintain your privacy, which is a common complaint about market research sites. Unlike most sites, you do not have to provide your legal name, nor do you have to provide your full address in order to participate in surveys on this site. This makes it really attractive to those who would participate if they weren't worried about their privacy.
PaidViewPoint different other survey sites in that they offer transparency and allow users to maintain privacy and anonymity. This is not something that is often found in the field of market research, which is incredibly invasive to people's personal privacy.
Also, PaidViewPoint does not directly sell to you after getting your data, unlike a lot of other sites. They take the information that you provide them during your survey participation and sell it to businesses who have an interest in the information. This allows these businesses to better tailor their products, services, and even marketing strategies, to the needs and desires of their target market.
PaidViewpoint Income Proof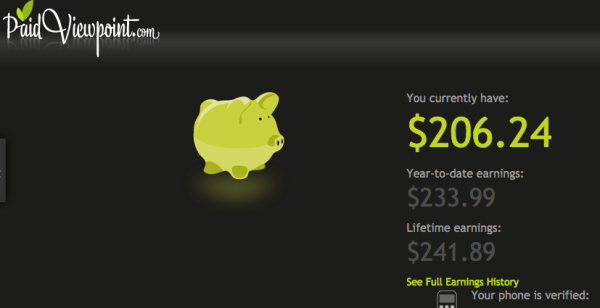 I only write reviews for companies once I've actually tried them out and been paid. That way you know that the review is based on my actual experience.
How To Make Money From PaidViewpoint – In-Depth Review
The best way to make money with PaidViewpoint is simply by putting in a little bit of time each day. The reason for this is because of PaidViewpoint's TraitScore. (Read further for explanation)
But first, Let's go into the details of our PaidViewpoint review with the basics, like who can sign up for PaidViewpoint, how to sign up for PaidViewpoint, etc. After that, I'll cover more on actually making money with PaidViewpoint.
PaidViewpoint Restrictions:
Location: PaidViewpoint works for anyone in the world, which is why I've written about it so much.
Age: You can sign up for PaidViewpoint as long as you are 13 years or older.
PaidViewpoint Sign Up Process:
Joining PaidViewpoint is really easy. Simply CLICK THIS LINK, sign in with your email address or via Facebook, Twitter or the other options and click next and answer a few questions that allow PaidViewpoint to get to know you better, which you will get paid for!
PaidViewpoint Minimum Payout
The PaidViewpoint Minimum Payout is $15. This means that You need to have a minimum of $15 in your account to cash out. This is not too bad as far as the industry goes although some people will want it lower. This is why I recommend using multiple survey companies, so you aren't reliant on just one company for income.
PaidViewpoint Survey Qualification Percentage
Unlike a lot of other survey sites, you will never be "screened out" of a survey on PaidViewPoint. If you are deemed eligible to take a survey, you will be able to take the whole survey and be rewarded for it.
PaidViewpoint is definitely the best company I've used that actually learns more and more about you so that they only send you surveys that you qualify for. This is what the TraitScore measures, which I'll cover more below.

PaidViewpoint Survey Invite Rate
You get at least one survey a day, but most of the time these are lower paying TraitScore surveys. These ones you earn between $0.03 and $0.10. This would be a major con, if the daily surveys didn't take only a minute or two, and add to your TraitScore.
The higher your TraitScore, the more surveys you get and the more you get paid. You will get a daily email about your surveys, but you can also just log in daily, knowing there will be a survey for you.
What is PaidViewpoint TraitScore?
The TraitScore is basically how well PaidViewpoint knows you. There are a few reasons why this is important. The better they know you, the better they know what surveys to send you. This is a huge time saver, as you may know, many survey companies don't actually get to know you, so you have to take qualifying surveys before each survey and may get denied often.
So to get the most money from PaidViewpoint, you need to build up your TraitScore, which you can do everyday, and it only takes a couple minutes. You get at least one survey a day from PaidViewpoint, but most of them are TraitScore ones.

You do get paid for TraitScore surveys, but not much. Luckily I think I finish most of them in less than 2 minutes.
While you'll make more money and get more surveys as your TraitScore grows, the real goal is to get up to a score of 9,000. That's when you've reached the top! Once you are there, you get their maximum amount of surveys, along with getting paid more for every click.
The reason they pay you more and give you more surveys is because they know you are the exact demographic they are looking for. This precision is a huge benefit for both parties, the companies that need info and us, the survey takers!
The PaidViewpoint Referral Program
Personally, this is my favorite part! On top of being a great survey company, PaidViewpoint also has a really great referral program. You are paid $25 for every friend you invite to participate!
You'll also be paid 20% of everything they make. You don't actually take 20% away from them, it's just a bonus you get from PaidViewpoint. This is really easy to get started, just click on the friend's tab, then you have 3 ways to invite people.
Invite your friends via social media
Create a quick email to send out
Create a referral link to give directly to people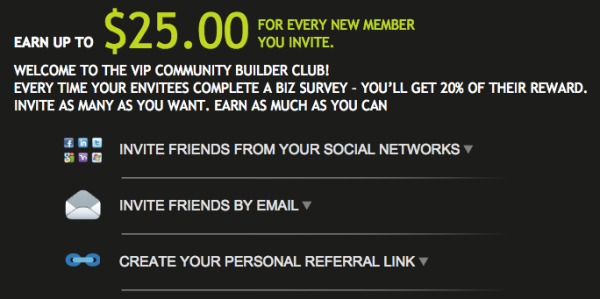 Once you invite enough people, you can become a "community builder", so that you get the 20% bonus every time your friends earn money, not just when they cash out. You can now see why I'm such a big fan of PaidViewpoint
Is PaidViewpoint legit or a scam?
PaidViewpoint is legit and definitely not a scam. It is one of the most legit survey companies you can join. Although it starts slow, you can literally spend 1 to 2 minutes a day for the first few weeks and eventually work your way up to making a good amount of money with PaidViewpoint.
On top of that, they don't waste your time with surveys you don't qualify for, it is a well laid out and easy to use site, and their referral program is really good.
Conclusion: Can you make money with PaidViewpoint?
Yes, you can make some extra money with PaidViewPoint. It is a legitimate, fun, and private way to earn money for giving your opinion. You want to look for sites like this that ensure your privacy and actually pays you what they say they will, without a bunch of strings attached or hoops to jump through. You won't get rich doing this, but you can most certainly earn some extra spending money with just a bit of your free time.