Top 10 Best Affiliate Programs In Nigeria That Will Make You Money
Are you looking for the Top 10 Best Affiliate Programs In Nigeria That Will Make You Money in 2020? Do you want to make money with affiliate marketing in Nigeria? Affiliate Marketing is one of the biggest and easiest methods to make easy and legit money online. It has also become one of the major sources of earning for many online bloggers and entrepreneurs.
Affiliate marketing is an ideal side hustle or even a steady way to make more money and start a home-based business, it doesn't require much money to get started, and you don't have to produce, stock or ship product inventory, or deliver a service. You're essentially paid for referring new clients and customers to other businesses online
What is Affiliate Marketing?
According to Wikipedia, Affiliate marketing is a type of performance-based marketing in which a business rewards one or more affiliates for each visitor or customer brought by the affiliate's own marketing efforts. Affiliate marketing can be an amazing sales channel for online businesses.
Hence, Affiliate marketing can best be defined as the process of earning a commission by promoting other people's (or company's) products. You find a product you like, promote it to others and earn a piece of the profit for each sale that you make (Neil Patel).
How Does Affiliate Marketing Work?
When you join an Affiliate program and choose the products that you want to sell, sellers provide you with a unique affiliate code that you can use to refer traffic to the target site. Most affiliate programs will offer ready-made text links, banners and other forms of creative copies whereby you only have to copy the code and place it on your website or share with others to start referring traffic.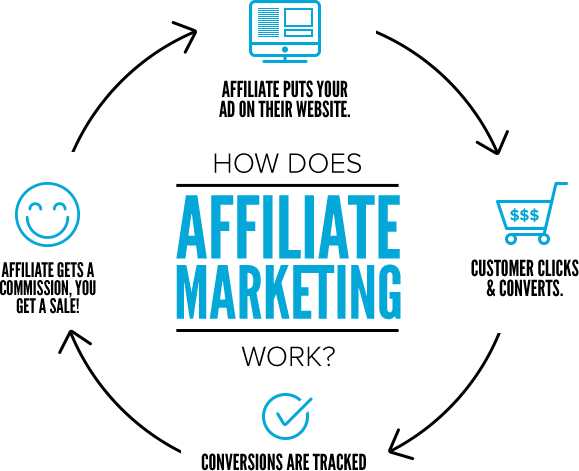 The affiliate will try to market to the consumer on whatever channel they see fit, whether that's a social network, digital billboards or through a search engine using content marketing on a blog. When interested visitors click on these links they get redirected to the product site and if they purchase a product or subscribe to a service you as the referrer make a commission
The first step to starting a successful affiliate marketing business is to look for rewarding affiliate programs that you can participate in. Every affiliate program has its advantages and disadvantages its left for you to know which one to go for and the good news is that you can join more than one affiliate marketing program at a time.
List of Top 10 Best Affiliate Programs In Nigeria
#1. TravelStart
Travelstart is my #1 pick of the Top 10 Best Affiliate Programs In Nigeria. It Is a fast-growing travel agency across Africa. Their affiliate program is home-based, so getting paid easily is out of the question. What they do is book hotel rooms around different country locations and process flight tickets.
This affiliate program pays 70% of the revenue your referral brings to them. For both domestic and international booking. If you have a travel blog, Travelstart might just be the best way to monetize it.
#2. BuyeUnit Affiliate Program
The BuyeUnit Affiliate Program is an affiliate program for eUnit Technologies Ltd, an online utility payment company in Nigeria. It offers the easiest and fast online utility payment. This innovative solution helps to top-up your prepaid meter or pay your postpaid electricity bill in a few clicks.
The Affiliate Program is the most unique and simplest affiliate program in Nigeria. The program allows anyone to refer a customer once and technically earn forever on each successful transaction that the referred customer makes on BuyeUnit.Com.
The coolest feature of the BuyeUnit Affiliate program is that you enjoy forever cookie tracking on your referral. If you referred a buyer to BuyeUnit once, and the buyer didn't buy immediately, you can still get paid when the buyer eventually buys any day in the future as long as the said buyer hasn't cleared cookies on his or her browser. It is definitely one of the Top 10 Best Affiliate Programs In Nigeria. CLICK HERE for a detailed review.
#3. Wakanow Affiliate Program
The website is a member of Wakanow.com Limited. It's also one of the continent's most popular travel businesses. This affiliate program allows you to sell their services such as airplane tickets, hotel reservations, and travel tours on your pages to receive significant commissions (in the form of discounts) with each purchase.
Wakanow also grants you a chance to control the pricing displayed on your website or social media account. Many reviews have ranked it #1 on the list of Top 10 Best Affiliate Programs In Nigeria
#4. TravelBeta Affiliate Program
TravelBeta is one of the market players in the Nigerian Travel and Tours Industry. The company offers a wide range of travel-related services such as flight booking, hotel booking, vacation planning and packaging, visa assistance, airport pickups, and international telephone services.
But the sweet part is that TravelBeta also runs an affiliate program. And when you remember that travel-related services typically cost hundreds to millions of naira, you can only imagine how much you can make from each sale generated through your efforts.
The TravelBeta affiliate program pays pending commissions on the 10th of every month. What sets this program apart is that you're allowed to promote their services even if you don't have a website.
#5. Jumia Affiliate
I think everybody should be familiar with Jumia already since its home-based. Just like Amazon, their commission is stupidly low. But the bright side is you don't need a website to apply.
However, just because their commission is low doesn't mean you can't make some income with Jumia.
The secret to Jumia affiliate is that you need to build a whole website for that. Then work on getting massive traffics. It's until then you can make a reasonable success with Jumia affiliate marketing. They also pay directly to your bank account.
#6. PayPorte Affiliate Program
PayPorte is an online store marketplace like the popular Jumia and Konga store. Just like the other two, they are also a home-based affiliate program. PayPorte pays 1000 naira free for every affiliate that signs up for their affiliate program.
To cash that you need to make your first affiliate sale and just like the rest, their affiliate commission is very low. They have several products to promote like the usual fashion wears, skincare products, and many other niche related product.
#7. Konga Affiliate
Konga affiliate program is virtually the same thing as Jumia and PayPorte. The only difference is that they are stricter than the rest.
You must have a website already to promote Konga products and they review every sign-up for their affiliate program. About payment, all payment is sent directly to your bank account.
The best way to promote affiliate offers on networks like Konga, Jumia, Amazon, etc is to create a niche blog about the product or related products you want to promote as an affiliate.
#8. Bet9ja Affiliate Program
Bet9ja is the largest sport betting website in Nigeria. They offer seamless opportunities for their users to enjoy the best sport betting experience in the country and, this has really boost both their online popularity and trust.
Just like other websites, you can make money with Bet9ja Affiliate Program by first registering as an affiliate marketer on their website, get your unique affiliate link, share or embed in your website and make cool cash!
Let me remind you that as a new affiliate, you're going to enjoy up to 50% of accumulated earning by your referrals. You can make up to N100k per month because people really love sports betting in Nigeria.
#9. Hog Furniture Affiliate Program
Hog Furniture is one of the leading furniture outlets in Nigeria. And the company is rattling the status quo in the Nigerian furniture industry by establishing a strong online presence.
This helps the company cater to their target customers through the Internet. But more interestingly, the company run a cool affiliate program that pays you 3% on any of their products sold through your affiliate links.
Hog Furniture sells a wide range of home and office furniture and related accessories, so you have a huge pool of products to promote for them as an affiliate. The sweet part is that many of their products are "high-ticket" products that run into hundreds to millions of naira. Imagine how much you'd pocket as commission for selling a set of furniture worth N500,000.
Another upside of this affiliate program is that you don't have to wait until the end of the current or next month to get paid. You actually get paid once the sale you generated has been confirmed successfully completed. Click here to learn more about the program.
#10. VoguePay Affiliate Program
VoguePay is one of Nigeria's leading online payment processors. Their service allows website or blog owners to receive payments for goods and services online. And interestingly, their platform allows for international transactions, too.
VoguePay runs an affiliate program that doesn't look lucrative on the surface. But when you understand what recurring commissions mean, you'd agree that their affiliate program is one of the coolest in Nigeria right now.
Let me tell you how it works: You earn 10% of VoguePay's transaction fees each time someone you referred receives payment from his/her customers. Now, let's assume you recommend VoguePay to Mr. Q, who eventually signs up through your affiliate link to become a customer. Each time Mr. Q receives payment through the VoguePay gateway on his website, you'll get 10% of VoguePay's charge on that transaction. From what I know, VoguePay charges 1.5% or thereabout for each local transaction. So, if they charge N1,500 on a N100,000 transaction done on Mr. Q's website, you will earn N150. While that might seem meager, truth is you earn on every transaction done through Mr. Q's VoguePay account. That, to me, is quite alluring.
All commissions you earn are instantly credited to your VoguePay wallet (which means you must have a VoguePay account before you can promote them as an affiliate). And you can withdraw your earnings from your VoguePay wallet to your account at any time.
#11. Whogohost Affiliate Program
One of the most widely used web hosting services in Nigeria, Whogohost runs an affiliate program that pays you a 15% commission on each sale generated through your affiliate link.
In addition to web hosting services, the company also offers domain name registration, website design services, web security services, SSL certificates and more. The prices of these services are cool enough to give you decent bucks in affiliate commissions.
Once you sign up for the Whogohost Affiliate Program, you get an N500 signup bonus that you can withdraw along with your first commissions. Note, however, that the minimum balance you must have before requesting payout is N3,000.
#12. Web4africa Program
This Ghana-based company and one of the Top 10 Best Affiliate Programs In Nigeria. It offers web hosting on all the leading platforms, as well as sells domain names for citizens of Nigeria and other African countries. They also provide an affiliate deal for their customers. If someone makes a purchase from your link, you'll be rewarded with a commission
How Do You Receive Your Affiliate Income?
Earning affiliate income is one thing, but receiving the money in Nigeria, is another. A lot of people find it more difficult to receive money from low or high paying affiliate programs or networks than to literally make the money. This is why so many affiliates worldwide have thousands of dollars stuck in many affiliate programs that they can't get their money out of.
But receiving the money should never be a problem. Most affiliate companies require that you have a Paypal account, but Nigerians and many other countries around the world can't receive money via Paypal yet, so getting a Payoneer card is the next best solution.
A Payoneer card is a debit card tied to a US bank account that is created on your behalf by Payoneer. Whenever you need to request your affiliate income, you can use your Payoneer card as an option, and the money will get paid into the card's account.
With your Payoneer card, your money is stored in Dollars, and you can withdraw it at absolutely anytime from any ATM around the world.
Even if you haven't decided on the blog niche or affiliate program to join, it is important that you apply for your Payoneer card now, because it will take a few weeks to get to you.
Conclusion
You've seen the Top 10 Best Affiliate Programs In Nigeria, they are reputable brands, they're all free to join easy to use and they offer a wide range of products.
Affiliate marketing isn't hard, but it does require knowledge, planning, and consistent effort to make any significant income. Your overall chances of making money with an affiliate program are probably no better and no worse than any other type of internet-based business. Your success depends on how well you execute your affiliate business plan.